Most towns have many good places to eat, with a fixed price menu generally offering the best deal and usually featuring dishes made using the freshest produce.

These are a few of our favourites, but food is so important to the French that you would be unlucky to have a bad meal anywhere and don't be afraid to try anything that catches your eye.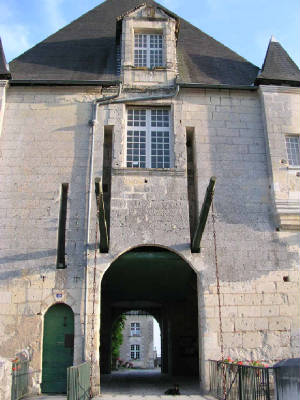 The best place to eat locally in our view is at the Chateau in Chalais, where you can enjoy excellent food in marvelous surroundings at a reasonable price - they have a fixed price menu which is great value.
We like to sit on the terrace and enjoy the summer evenings, but eating inside is also a good experience.
Booking is almost essential to eat at the Chateau, they do have two good sized dining rooms and a large terrace but the place is very busy, especially in the summer. The phone number is 0545 98 2358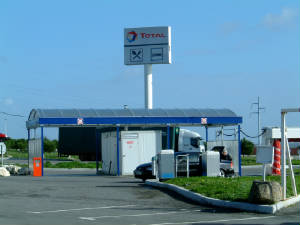 An unusual and interesting experience for lunchtime is to try the Total service station near the N10 in Barbezieux. It must sound strange to suggest eating at what is essentially a motorway service area, but the food is good and inexpensive, you pour wine from a tap in the wall and the atmosphere is really good. It is open every day, but we think the best day to go is Sunday as local French people take their families there then and so the atmosphere is more family orientated especially as there are virtually no truckers then either (most trucks are barred from the roads on Sunday in France). When you go in you need to order from the food bar, there is no table service and no reservations.
Another unusual recommendation for lunch is to try to the routier (transport cafe effectively!) on the N10 just before the turn for Oriolles - from the house go right at the roundabout and take the left towards Oriolles, when you reach the N10 turn left and the routiers is on your right about 5 km down the road - go past the first routier to get to the Casse Croute, it serves good food in a nice atmosphere.
The restaurant at the loisir in Brossac is well recommended (as is the loisir itself as a fun place to spend the day), with well prepared food served in a nice atmosphere, available both at lunchtime and in the evening.
Eating out is one of the joys in France, be prepared to spend many hours at a single meal, especially at lunchtime.
Our favourite lunch place is "Le Poirier" in the village of Bardenac, about 10 km away between Brossac and Chalais. This place provides good french country style "paysan" cooking in simple homely surroundings. It has a limited menu concept, basically lunch is a fixed price in 2015 it was 18 Euro per person (which includes as much wine as you want - amazing value!) and you are fed 5 or 6 courses (you can opt for a smaller menu as many locals do, which is only 2 courses and aimed at workers who need to be in and out fairly quickly) of whatever the proprietor thought was good that morning. Seating is in one of 3 rooms, usually the locals opting for quick service are in the first room. This is a popular place with the locals and it can get busy and so it is worth calling ahead to reserve a table, especially if you are going as a big group, the number is 0545 98 1431.